This is a specialty PE lesson plan that was created to give your students more FUN with a Frisbee then they ever imagined possible! Give your students the clearest and most concise Frisbee instructions available today for Health and PE classes. To start your youth on a lifetime of disc sport enjoyment that is beginning to lead thousands of students to better health worldwide!

Each lesson includes using key segments of the acclaimed Heave H.O.E. DVD to transfer valuable throwing tips that all your students crave to know and put to use.


When shown to new players (of even the youngest ages!
) Heave H.O.E. instructions have proven to advance everyone's Frisbee throwing skills in just one casual viewing. And for those who go on to study it, their throwing skills will leap

forward

10 years

,
in 25 minutes
! A revolutionary seed in the history of Frisbee instruction, and a "must see" for every PE and Health class.
The lesson plan is a 10 lesson course which, introduces your students to FRISBEE Games, based on Ultimate, Disc Golf and Freestyle. However, select parts can easily be used in supplemental clinics that dramatically improve the forehand and backhand throws.

A highly recommended handout, starts to get children using their newfound skills in various ways throughout their neighborhoods, for day after day of free, outooor, Frisbee disc fun and games.
Or enhance the disc sport program that you currently teach, and watch your students gain greater and greater accuracy and distances with Frisbee discs while they play! Your students will be more quickly, and more certainly, on the path of using disc sport activities for better health over their lifetime!
Your students will also begin sharing this throwing knowledge with others, as a sign of friendship. We ask them to help spread these instructions to others.
The lessons are easy for you to setup and oversee. Including key instructions to adjust for the various abilities of specific age groups: 6-10; 11-15; high school; and adult/college. And how to adjust to different group sizes, from 5 children to 50.
Also included are two samples of the discs that we suggest you use for quickest results and best player satisfaction.


"The Heave H.O.E. method is an excellent example of teaching beginners how to throw a disc. I have been disc golfing for some time and for months I was unable to properly teach my daughter (age 12) how to throw a disc. Like Motodom says, "in 25 min of watching this DVD," you can learn to throw a disc. My daughter, on her 3rd throw after watching Heave H.O.E., threw an Innova disc 175 feet! She thinks Heave H.O.E. is great. Thanks Motodom for a wonderful teaching tool."
Errol C.
Grapevine, TX
*FRISBEE is a registered trademark of Wham-O, Inc.
Motodom.com has no affiliations with Wham-O, Inc.
Enjoy!

Additional
discs
can be ordered
as a separate option,
please see below.
Links

(Review from Amazon.com)
by:
Paul Grubb
Spokane, WA USA -November 9, 2004
"I bought Heave H.O.E. because I was desperate for material to entertain my high school disc club on rainy days. I am the faculty moderator for a couple of dozen high school disc throwers. We play golf every Tuesday and ultimate on Thursdays. This week I showed them Heave H.O.E. and afterwards they ran to the gym. The kids lit up as they began to excel at a previously unachieved pace. I have been playing for years and finally I learned how these throws work. The most beneficial part is that I can teach them now. In addition, this DVD is helping my kids learn the philosophy behind the sport that has taken many of us a long time to understand. The instructions are simple and straightforward, nothing too fancy and totally in keeping with what hucking a disc is all about. If you want to learn very quickly how to flick, skip or pitch a disc with predictable accuracy this is a great DVD."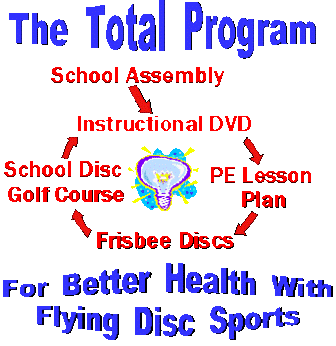 Lesson Plan Package
Includes
1 Instructor's handbook
+1

Heave H.O.E.

Includes easy to use menus
for learning & teaching!
+1
Youth
disc
---
$43.75+$8 s/h

----Order Online ---
Order Questions? Email Us
----Order By Mail---
Motodom.com
PO Box 4333
Bozeman MT 59772
----Order By Phone---
Call toll free
1-406-600-9839
---Order By Schools---
Purchase Order
---Order By Pay Pal--
-----------------------------
----------------------------
---
C.O.D.E. PROGRAM
IN THE NEWS

Bozeman Chronicle
Article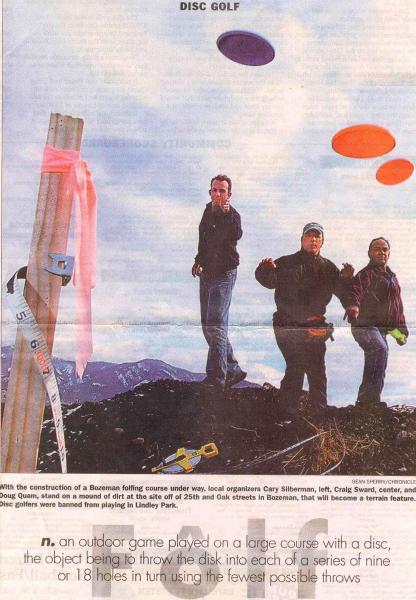 ---

9/5/06 NEWS ARTICLE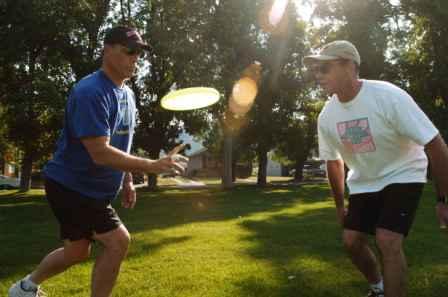 Men tour to show kids the possibilities of a Frisbee
---



MORE IN THE NEWS
.................................................
U.S. Surgeon General suggests Frisbee to fight obesity
David Satcher |1999 | National TV Turnoff Week, April 21-28

UNICEF Gives
5 Million Iraqi Children
FRISBEEs & PE Lesson Plan
Effective Trauma Therapy in Iraq & Tsunami-hit Schools.
UNICEF Press Release | School In A Box Program | Jan 2005

10,000 Nevada Youth Get A Free Disc & C.O.D.E.
Lesson Plan in Schools
Effective Health Education For Obesity Prevention Program.
University of Nevada Cooperative Extension | Chef's for Kids 2005
Helped by grant from American Academy of Physician's Assistants AAPA .

Frisbees in Fallujah
14,000 imprinted with "friendship" in English and Arabic. Marines requested Frisbees from Spirit of America


" The next

time we went

to visit the village, we took as many frisbees as we could fit into the open space in the back of our hummers.." Lt. Col. McNease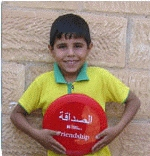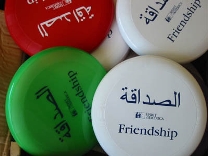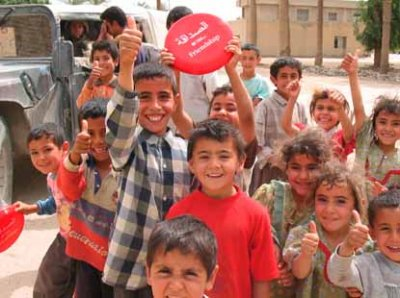 .......................................................

Your Inventory Needs
For Using the Total CODE Lesson Plan:
(Assumes you need the following numbers of discs for classes of 30 students and under.)
An Indoor class day would use exactly 54 discs w/18 cones.
An Outdoor class day would use exactly 42 discs w/ 27 cones.
A TV and VCR or DVD.
A gym or playground area.
---


Good walk defined:
PHD's Study on disc golf
yields intriguing findings
As a nation, we simply do not walk very much. We tend to watch TV, drive our cars and sit at our computers. When we choose to walk rather than sit, we burn more calories and our hearts have to work a bit harder. If we keep walking, our bodies adapt to this kind of good stress and we become physically fitter. Ideally, a person should walk around 10,000 steps a day to maintain a healthy level of fitness. With support from the PDGA, the first nation-wide research study to examine disc golf and physical activity is complete.
More