1 DVD "Heave H.O.E."
INSTRUCTIONAL THROWING DVD
Critically acclaimed by School Library Journal
and American Library Association: Booklist
10 FRISBEE YOUTH DISCS
....................................................

This assembly is FAST MOVING AND SAFE:
#1 GOAL of
C.O.D.E. FRISBEE Disc School Assemblies:
-------------------------------------
TO INSPIRE and TEACH THE CHILDREN OF THE WORLD HOW TO THROW A FRISBEE DISC STRAIGHT AND FAR, FOR BETTER HEALTH AND SOCIAL RESPONSIBILITY (PEACE).
-------------------------------------
PLEASE email info@motodom.com for more information to get a
C.O.D.E. FRISBEE Disc School Assembly at your school.
*FRISBEE is a registered trademark of Wham-O, Inc. The Course of DISCovery Education, and Heave H.O.E., and Motodom.com have no affiliations with Wham-O, Inc..
---
Typical comments from school administrators
who have recently seen this assembly.....
---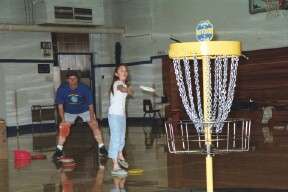 Cynthia Davidson , Counselor
Victor School, Montana
Motodom.com performed for the 2003 Victor Teen Day. The assembly was entertaining and had an appropriate focus on helping students consider other alternatives to drugs and violence. The students enjoyed the assembly and workshop. As an educator, I would give them an "A" for their performance.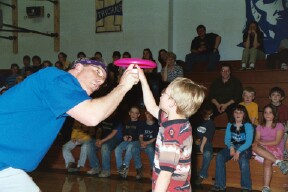 Teri Harris, Administrative Assistant
Winnett High School (K-12), Montana
The Motodom.com Frisbee Assembly last week rated a big "A+" with our students. We viewed the DVD in Freshmen and Sophomore PE classes the same day and worked on Frisbee throwing. Many of the kids were even "skipping" the Frisbee by the end of the PE class.
Thank you very much for the DVDs and frisbees. I can assure you that the assembly inspired many of our students to pick up a frisbee and learn how to throw it better!
Carolyn Tecca, Counselor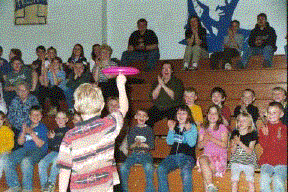 Melstone School (K-12), Montana
The assembly was great. Grade "A." We would even like to expand your ideas into our PE class.
Denton Web page
Denton School (K-12), Montana
Doug Quam and Craig Sward gave a stunning performance on different styles of throwing Frisbees. They have been playing Frisbee for about 20 years. They both encourage staying drug-free. You can learn more about both of them by checking out their DVD at the Denton School library. The movie also contains some of the world's best tips for becoming a top-notch Frisbee thrower.
---