The 1st Winner Is...
After nearly one full year of voting.. Columbus OH was able to win the honor of being the host for the first Motodom.com Accuracy and Distance Tournament- with 1,213 votes. As we expected, the winning city was able to get a group of people to vote for their city. In the course of just a few days they had all the number of votes needed to win the voting process.
We are currently promoting the sales of the video, "Heave H.O.E.", to hit the mark which brings $3,000 into the Prize Money Pool. We are contacting Public and School Librarians, School Principals and PE Teachers about simply getting a copy for each of their schools. However, when we reach $3000, it is official that Columbus OH will be the first destination for a Motodom.com Accuracy and Distance Tournament. Please support the cause of creating the Motodom.com Prize Money Pool - call a local library or school library and let them know they should own "Heave H.O.E." Basic Instructions for All Flying Disc Students.
A new voting booth will be set up to find out which city will be next.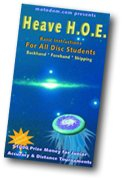 .........................................
Order the Video
....FREE Disc w/Video!
..........................................

Voting Results....
click to see the first voting results
Home | About the Tournaments | Tournament Voting | Critical Acclaim