This music(below) was played on KGLT radio (91.9 Bozeman MT) on Friday 6pm-10pm : 12/8/2000 ! By Mystery DJ, Motodom.com
If you are a flying disc enthusiast, and you combine that personal knowledge with an understanding that the Heave H.O.E. (Heaven On Earth) DVD is an elite educational DVD tool for the disc sports, then you can do something very unique. You can put your own music behind this well made DVD and basically turn it into your own flying disc music DVD. Heave H.O.E. was specifically designed to be totally narrated -with no visually talking parts- so it's all disc action-pleasure- and therefore when you change the audio into being your favorite music - it is truly your own Flying Disc Music DVD! (We may also suggest putting any of the music listed below on as a soundtrack to "Heave H.O.E." Basic DVD Instructions For All Flying Disc Students- . )

(new..Just Arrived: A new page that also shows the play-lists for
2002-2003
radio shows
: Motodom.com #18 through Motodom.com #27! )
HOW TO Change the Heave H.O.E. audio:
Just play the "Heave H.O.E." DVD, and either connect your cd player output to the input audio jacks of your TV (instead of plugging in the audio from the VCR to the TV, you input the music from your cd player).
OR: Simply crank up the cd like you normally would, and just keep the sound on the TV turned down while you play the DVD.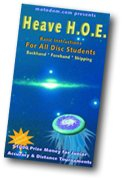 Either way you will then see and hear what we call the first Flying Disc-Music DVD!
Order the DVD
FREE Disc w/DVD!


((*There were a series of songs listed below which came from Soundtracks that need to be researched to correctly list the artists,songs and movie..and that will soon be coming.))
----MUSIC: Played in this order on KGLT -----
------- by Mystery DJ-Motodom.com--------
(Starting at 6:00 pm 12/8/2000)
ARTISTS/........................................../ Songs ...................

1. Seal .................................................Future
2. Soundtrack: Adams Family..............Do What You Want
3. Keb Mo...........................................Tell Everyone I Know
4. Sound Track :Batman.......................Poison Ivy
5. Keb Mo............................................Angelina
6. Sound Track: (will research)...............Game Over
7. Keb Mo............................................She Just Wants to Dance
8. Sound Track: (will research)................Duet
9. War...................................................Cisco Kid
10. Sound Track: (will research).............*
11. Keb Mo......................................... Jingle Bell Jamborie
12. Sound Track (will research)..............True to Myself
13. Al Green.........................................Take Me to the River
14. Sound Track: Dead Man Walking.....*
15. Al Green..........................................Funny How Time Slips Away
16. Sound Track (will research)................*
17. Al Green..........................................Wait Here
18. Sound Track (will research)................Rock Steady
19. Keb Mo............................................Muddy Water
20. Sound Track (will research)................organ music
21. Keb Mo.............................................Everything I Need
22. Sound Track: The Fan.......................Whatever You Want
23. Keb Mo.............................................Henry
24. Sound Track (will research)................ *
25. Keb Mo.............................................Slow Down
26. Sound Track: (will research)................*
27. Delbert McClinton............................Lie No Better Than That
28. Sound Track: Gone in 60 Seconds.....Spiritual Stuff
29. Al Green............................................Love Is a Beautiful Thing
30. Sound Track: Gone in 60 Seconds......Bring Sally Up
31. Al Green.............................................People In the World
32. Sound Track: Gone in 60 Seconds......They Say They Want Rap
33. Seal.....................................................Whirlpool
34. Sound Track: Gone in 60 Seconds.......*
35. Seal.....................................................Wild
36. Sound Track: Gone in 60 Seconds.......Not Too Sick to Pray
37. Seal......................................................Crazy
38. Big Head Todd and Monsters............Brother
39. Keb Mo...............................................Soon as I Get Paid
40. Spin Doctors........................................Cleopatra's Cat
41. Keb Mo...............................................God Trying to Get Your
42. Spin Doctors........................................Here Comes the Bride
43. Delbert McClinton..............................Better Off With the Blues
44. Spin Doctors........................................Kryptonite
45. Keb Mo...............................................That's Not Love
46. Toad Wet Sprocket.............................What I Fear
47. Keb Mo................................................More Than One Way
48. Toad Wet Sprocket..............................Dam Would Break
49. Keb Mo.................................................I'm On Your Side
50. Rolling Stones.......................................Never Make aSaint of Me
51. Keb Mo.................................................Hand It Over
52. Little Feat..............................................High Roller
53. Keb Mo.................................................Standinmg At the Station
54. War......................................................Peace Sign
55. Seal...................................................... (remix)
56. War......................................................wild Rodrigues
57. Seal......................................................See What Love Has Done
58. Bonnie Raitt........................................The Fundamental Thing
59. Seal......................................................Violet
60. Bonnie Raitt........................................Spit of Love
((end of KGLT show at 10:00 pm 12/8/200))

((*There were a series of songs listed above which came from Soundtracks that need to be researched to correctly list the artists,songs and movie..and that will soon be coming.))
.Home | About the Tournaments | Tournament Voting |
Critics Acclaim | Music Played on KGLT